We provide efficient and reliable HVAC systems for server rooms and office environments.
Server Room and Office Air Conditioning You Can Rely On
Office air conditioning is about much more than keeping the workplace cool on a hot summer's day. HVAC for business is a crucial part of any organisation's success. If your working environment isn't conducive to productivity, your team won't be able to deliver results.
At System Force IT, we're not just IT support professionals — we're HVAC office specialists, too. We're here to keep your workforce comfortable and productive. And we can also protect your critical IT infrastructure from overheating and catastrophic malfunctions.
Customised air conditioning for business
Preventative measures against overheating and sub-optimal IT operating temperatures
Minimal temperature-related downtimes
Protection from increasingly volatile weather patterns
Optimal working conditions for maximum staff efficiency
Our HVAC for business solutions are more affordable than you might think. Whether you have a small office or a major production facility, we'll design and install office air conditioning that protects your staff, your IT infrastructure and the planet.
To find out more about how we can help you minimise the cost of HVAC office installation, contact us today.
Why Choose Us for Office Air Conditioning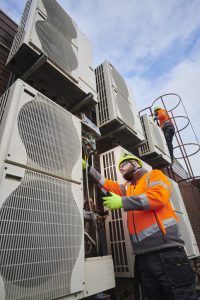 We are one of the leading IT support companies in South West England. That's why we know exactly what is required to protect IT infrastructure from temperature extremes.
When you choose System Force IT for commercial air conditioning, you're guaranteed:
An eco-friendly HVAC office system
A cost-effective solution designed just for you
HVAC equipment that blends in with its surroundings
Whisper-quiet options
Smart HVAC technology that's compatible with smartphone apps and Wi-Fi
Let's Talk About HVAC for Business
We have the experience, the equipment and the F-Gas-qualified engineers you need to create a comfortable and safe working environment for your business. Whether you need a full installation, repair, maintenance or advice, we're always on the end of a phone.
Call us today on 0330 0167 681 to find out more about our customised office air conditioning solutions.